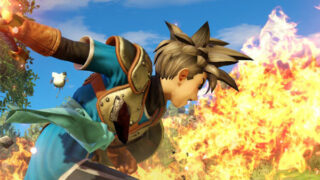 Game Watch quizzed Square Enix on the potential of an overseas release of Dragon Quest Heroes during an interview at the Taipei Game Show.
"I want to proceed thinking positively," Square Enix's Ryutaro Ichimura said in response to the question of a western release. "Since we were able to announce the Chinese version in Taiwan today, seeing that reaction, I want to spread it even further around the world."
Game Watch asked if a potential English version would include the option to switch between English and Japanese voice-overs.
"We haven't decided anything about that yet, but if it'd be better to put it in, that's something we'll consider moving forward," Ichimura said.
Koei Tecmo producer Kenichi Ogasawara added, "If such a need is strong, we're going to consider it."
Finally, the website asked about multiplayer. Specifically, whether or not it exists within Dragon Quest Heroes.
"There are no plans for completely synchronous multiplayer," Ogasawara said, "but we will be incorporating a fun little element that uses the network. We haven't officially announced that yet, but I think you'll enjoy it."
Dragon Quest Heroes is due out for PlayStation 4 and PlayStation 3 in Japan on February 26. If you missed it, catch the latest footage here.