Tales of Zestiria has Sengoku Basara 4 and Blue Exorcist DLC collaborations [Update]
Plus, previous generation and swimsuit costumes confirmed.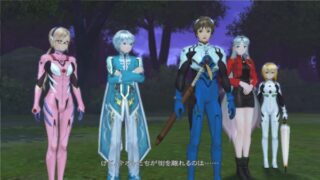 The Idolmaster and Evangelion won't be Tales of Zestiria's only crossover content. Famitsu this week reveals a collaboration with Capcom for Sengoku Basara 4 attachments and Blue Exorcist costumes downloadable content.
The magazine also reveals Tales of series previous generation costumes for the characters of Zestiria. Our source doesn't clarify which character gets what, but Tales of Vesperia, Graces F, Destiny, Phantasia, and the Abyss will all be represented.
Swimsuit costumes are also confirmed.
Thanks, Sokuho@Hokanko.
Update: A few more details have come in via Re: Zaregoto.
The previous generation Tales costumes are of Yuri Lowell (Tales of Vesperia), Cheria Barnes (Tales of Graces F), Leon Magnus (Tales of Destiny), Mint Adenade (Tales of Phantasia), Luke fon Fabre (Tales of the Abyss), Milla Maxwell (Tales of Xillia), and Zelos Wilder (Tales of Symphonia). Zaregoto also lists Edna, but we think it's a typo given that Edna is a Tales of Zestiria character.
The Sengoku Basara 4 attachments come from Date Masamune, Shibata Katsuie, Sanada Yukimura, Ishida Mitsunari, Shima Sakon, and Tokugawa Ieyasu.
The Blue Exorcist costumes are of Rin Okumura, Yukio Okumura, Shiemi Moriyama, and Shura Kirigakure.
Zaregoto doesn't specify which characters get what costumes, unfortunately.