Mevius Final Fantasy announced for smartphones [Update]
Developed by the mainline Final Fantasy staff.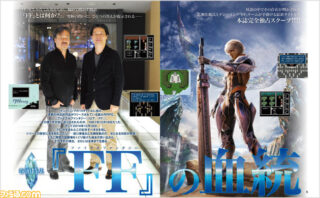 Following a trademark back in October, Square Enix has officially announced Moebius Final Fantasy for iOS and Android in this week's Famitsu.
Due out spring 2015, the mobile game is being developed by Final Fantasy's numbered series staff, including Yoshinori Kitase as the producer, Kazushige Nojima leading scenario, and Toshiyuki Itahana handling character design. Although not a remake of the original Final Fantasy, it will have some sort of connection to it.
Thanks, Games Talk.
Update 9:54 a.m.: An interview with Kitase and Final Fantasy series creator Hironobu Sakaguchi published in Famitsu shares additional details, via [email protected]:
Map movement is automated, but the system is traditional Final Fantasy.
Its quality will rival that of a numbered installment.
There will be abilities and jobs.
For a smartphone game, an exceptional number of people within Square Enix are working on it.
Though it's a game for smartphones, Square Enix says it is not inferior to console games.
The theme is "Warriors of Light."