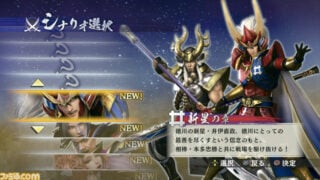 Famitsu has gone up with its online preview of Samurai Warriors 4-II, Koei Tecmo's newly announced followup to Samurai Warriors 4.
The game is not a sequel to Samurai Warriors 4, but rather "another Samurai Warriors 4" for players to enjoy.
New to the game is military warlord Ii Naomasa. He is voiced by Katsuyuki Konishi and uses long spear in battle.
The "Infinite Castle" mode from previous Samurai Warriors games will also return. The character and weapons growth systems, as well as conversation events, action parts, and other areas have also seen upgrades.
Infinite Castle is a challenge mode where players fight through an endless castle. It was last implemented in Samurai Warriors 2.
A number of new stages are also set to appear, including, Koshu, Osaka Castle, Honzugawa Gate, Oshu, and Kuisegawa. Each stage has been carefully modeled after their real world counterpart during wartime, right down to the seasons and weather patterns.
Samurai Warriors 4-II is due out for PlayStation 4, PlayStation 3, and PS Vita in Japan on February 22 in Japan. It will be available in standard, download, and Treasure Box editions.