'Warlock' revealed as final Halo: The Master Chief Collection re-imagined map
Warlock joins five previously announced re-imagined maps.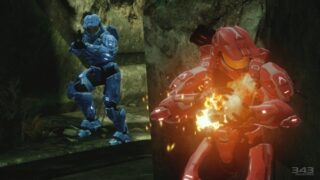 Microsoft has revealed Halo: The Master Chief Collection's final re-imagined Halo 2 Anniversary map to be 'Warlock.'
The map joins the previously announced 'Ascension,' 'Coagulation,' 'Zanzibar,' 'Sanctuary,' and 'Lockout' maps.
Here's the official description:
Set amid the ruins of an ancient Forerunner dungeon on Delta Halo, Warlock was renowned for hosting close-quarters firefights across its stony ramps and platforms, as well as teleporters that allowed players to instantly warp back and forth across the map to escape gunfights or launch deadly ambushes.
The re-imagined Warlock comes with a few updates, including additional cover, new skill jumps, and a new weapon in the center.
Watch gameplay of the new Warlock below. View screenshots at the gallery.