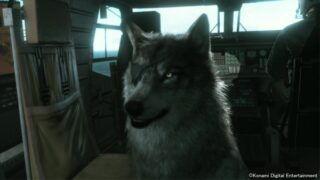 In Metal Gear Solid V: The Phantom Pain, a buddy AI system lets other characters tag along with Snake on missions to support his infiltration efforts. Earlier this week, Quiet was revealed as a buddy character. Today, Kojima Productions introduced the next: the Diamond Dog. Or "D.D." for short.
Similar to Quiet, finding and befriending D.D. is entirely optional. But do so, and he'll act as a sort-of mascot for Snake's unit, the Diamond Dogs.
Watch a video below. View screenshots of D.D. at the gallery.
https://www.youtube.com/watch?v=zbVcqIoqAcA