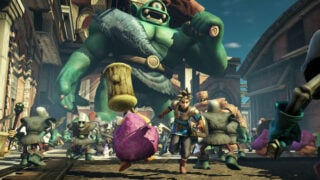 Square Enix has released new screenshots of its upcoming Dragon Quest action RPG Dragon Quest Heroes.
The images depict giant monsters, including a dragon, as well as monster hordes, which players can extinguish using swords and magic.
You'll also get a look at the game world, which is comprised of lush green plains, huge deserts, creepy forests, and the like. The Elsarze Castle is the adventurer's base. It appears as though the town is developing around a huge tree, but does the castle have anything to do with the game's subtitle, "The World Tree Castle"?
The game's cast are also pictured. You'll see Akuto and Meer, the captains of the Imperial Guards serving under the king of the Elsarze Castle, as well as King Dirk himself, who puts himself at the forefront of battle, and Julietta, the head of the magic research institute and a genius scholar. There's also a picture teasing additional characters.
View the screenshots at the gallery. (The images we currently have are 720×405. We will update the gallery with high-res images when we obtain them.)
Dragon Quest Heroes is due out for PlayStation 4 and PlayStation 3 in Japan during spring 2015.