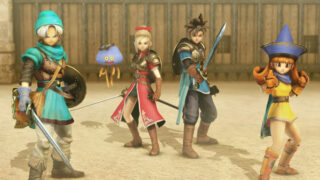 Dragon Quest series characters, including Dragon Quest IV's Alena, Kiryl, Maya, as well as Dragon Quest VI's Terry, will be playable in Dragon Quest Heroes, Square Enix announced during a stage event at the Tokyo Game Show.
Square Enix producer Ryota Aomi asked Niconico viewers which Dragon Quest V character they would like to be playable. A questionnaire appeared on screen and four options were given. When the results came in, almost 50 percent voted for Bianca. In response to this, Koei Tecmo producer Kenichi Ogasawara said they'll have to "seriously consider" adding her to the game.
Moving on, the producers said that the PlayStation 4 version of Dragon Quest Heroes will "run smoothly at 60 frames per second," and its graphics are "beautiful enough to see the monster's fur."
The game stars dual protagonists Akuto and Meer. Players can select either at the start of the game, and depending on your choice, the story will partially branch. You can also switch between characters during battle. Elements and locations expected of a Dragon Quest game are also being prepared.
Finally, yesterday, Japanese blogs picked up on an interesting level difference in the two Dragon Quest Heroes gameplay demos shown during Sony's Tokyo Game Show stage events. In the first demo, the player was level eight. Dragon Quest VIII was the last game in the series on PlayStation. In yesterday's surprise demo from series creator Yuji Horii, the player was level 11. Dragon Quest XI is currently in development for unannounced platform(s). Using this as evidence, blogs deduced that Dragon Quest XI is, in fact, in development for PlayStation 4. Ogasawara apparently playfully added a reference to the "level 11" stuff becoming such a hot topic to Square Enix's booth signage.
Dragon Quest Heroes is due out for PlayStation 4 and PlayStation 3 in Japan during spring 2015. Watch the full stage event below.
https://www.youtube.com/watch?v=teDEpw7NLDE
Thanks, Games Talk.