Ar nosurge gameplay and screenshots
A few new videos ahead of the game's late September release.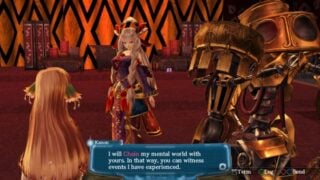 Koei Tecmo has released a new set of Ar nosurge: Ode to an Unborn Star videos and screenshots today showing the game's various systems.
Song Magic is the key to victory in Ar nosurge's battles. During battles, players control a two-person team, with the other character supporting via AI as the spell caster. The player's duty is to protect the spell caster to allow for more powerful Song Magic.
Also shown, you'll see the Genometrics system, which strengthens Synthesis ability, and the Purification Ceremony, which increases various skills and powers through a bonding ritual.
Ar nosurge is due out for PlayStation on September 23 in North America and September 26 in Europe.
Watch the footage below. View the screenshots at the gallery.
Battle Gameplay
Event Gameplay
Field Gameplay
Genometrics Gameplay
Song
Synthesis Gameplay