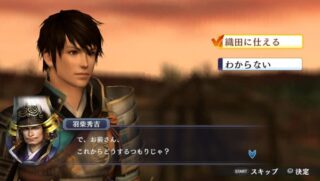 Koei Tecmo have released the first details and high-res screenshots of Samurai Warriors Chronicles 3, due out later this year for PS Vita and 3DS in Japan.
Find the details below.
Character Change System

The familiar character change system, in which players can switch between four characters in-game, will return in Chronicles 3. With all sorts of missions appearing simultaneously around the battlefield, you'll have to think strategically and be careful about where you place your characters to win.

Conversation Events and Friendship Level

In the Chronicles series, players can increase the Friendship Level between military commanders through choice of dialogue during Conversation Events. In addition to altered dialogue, more Conversation Events take place the higher your Friendship Level is.

Battle Techniques

Special techniques that consume the Battle Tech gauge. Using these, you can increase your army's ability, lower the enemy's morale, and proceed advantageously in battle.

History and "What If?"

The main modes of Samurai Warriors Chronicles 3. One follows the actual history of the Warring States, while the other modifies history.

The Battle of Okehazama (Modified)

As your Friendship Levels between military commanders increases, new scenarios will appear, and from there, you can create new "If" histories. What if Yoshimoto Imagawa, who lost to Nobunaga Oda in the Battle of Okehazama, instead survived?

The House of Martial Arts

The Martial Arts House is a place where you can test your skills in all sorts of ways by aiming for high score in time-constrained combat scenarios. As you clear out more and more missions during battles while swapping out characters, you'll raise the time limit, allowing you to shoot for higher scores. These scores are displayed in online leaderboards, pitting you against other players. If you manage to get a high rank, you might get a special reward in return.

Action System Adopted from Samurai Warriors 4

Hyper Attacks – Kick about the enemy while moving.
Mighty Strike – By fulfilling specific conditions such as getting an enemy general's health down a certain point and making them collapse, you can pull off dramatic attacks to cap off big fights.
Rage Attacks – A special technique that can be triggered with a full Spirit Gauge. While in this state, various buffs can be bestowed upon your character such as strengthened attack power and invincibility against enemy strikes.
Kaiden – The strongest special attack in the game, which are triggered by performing Musou attacks while in a Rage Attack state.
View the screenshots at the gallery.