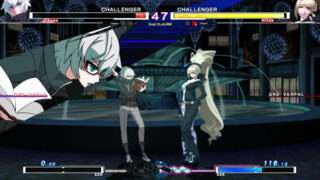 NIS America is bringing Arcana Heart 3: Love Max and Under Night In-Birth Exe:Late to Europe.
Both games are being localized by Aksys Games in North America.
Arcana Heart 3: Love Max will launch for PlayStation 3 and PS Vita in Europe later this year, while Under Night In-Birth Exe:Late will launch for PlayStation 3 in 2015.
Find official descriptions below.
Arcana Heart 3: Love Max!!!!!

Arcana Heart 3: Love Max!!!!! is the updated version of a 2D fighter that includes rebalanced gameplay and several new game modes to choose from. Select between 23 adorable anime characters with new attacks, defense skills and new 3D rendered environments. Mix and match each character with Arcanas (celestial beings) in order to figure out which combination works best for you while creating new deadly custom combos! Prove your skill in online multiplayer or enjoy the new content in story mode. With new hidden scenarios and over 300 vignettes depicting the daily lives of the heroines, there is more than enough content to keep you busy for countless hours.

Under Night In-Birth Exe:Late

From the highly-acclaimed makers of Melty Blood comes Under Night In-Birth Exe:Late, a brand-new 2D fighting game overflowing with fast-paced action, highly original characters, and several twisted plot lines. This is an updated version of the original game that launched in arcades only in Japan last year. New playable characters are present in this version, as well as new game mechanics, modes, and stages. There will be several gameplay modes available, including Score Attack, Survival, Online Multiplayer, and much more!
Update: It doesn't end at fighters. NIS America is also localizing Tokyo Twilight Ghost Hunters for PlayStation 3 and PS Vita in Europe. Find the description below.
Story

From the developers of Deadly Premonition and featuring music from Nobuo Uematsu, Tokyo Twilight Ghost Hunters is a brand new visual novel that offers a unique battle system and an immersive tale of life, death, and the space in between. As an ordinary transfer student you start life at Kurenai Academy in Shinjuku. On your first day touring the new school grounds, you quickly encounter something supernatural, which throws you headfirst into the world of ghost hunting. You must come face to face with ghosts as you blur the line between life and death.

Features

Modern, Immersive Ghost Story – This visual novel features a truly deep, immersive story with a modern take on Japanese ghost stories. With multiple paths, you're in charge of
Unique Emotion System – Interactions with other characters will go beyond simple branching conversations with a unique emotion system that allows you to react by using a special wheel that combines a certain emotion with one of the five senses.
Gorgeous Animated Graphics – Conversations are far from static, showing off fluid, painterly portraits of characters during every interaction.
Strategy–RPG-Inspired Battle System – A distinctive battle system allows you to fight unseen ghosts by setting traps and trackers on the map before battle. While in battle, you'll move from battle map to a first-person view of the enemy in a maximization of both strategy and ghastly elements of the story.