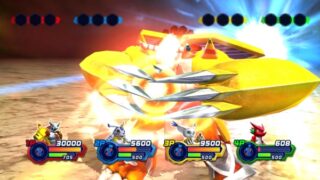 14 minutes of footage from Bandai Namco and Prope's newly announced Digimon All-Star Rumble for PlayStation 3 and Xbox 360 have surfaced.
The first video shows Agumon versus Gabumon. The second video shows Biyomon versus Gabumon, followed by Agumon versus Gomamon. Gomamon is newly confirmed, making for nine known base Digimon of the planned 12.
Watch the footage below. The game is due out on November 11 in North America and this fall in Europe.
Agumon vs. Gabumon
Biymon vs. Gabumon | Agumon vs. Gomamon