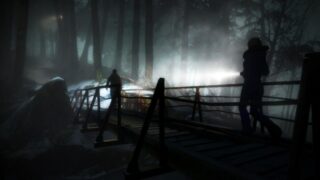 Sony Computer Entertainment updated its official Gamescom site today with a list of games it plans on bringing to Gamescom in Cologne next month. And among them, new PlayStation 4 confirmations.
Newly confirmed for the platform include
Hustle Kings – VooFoo Studios might have already made Pure Pool for PlayStation 4, but that doesn't seem to be stopping them from bringing PlayStation 3's Hustle Kings to the console.
Journey – Following Flower and Flow, Thatgamecompany's third and biggest PlayStation 3 title is coming to PlayStation 4.
Nom Nom Galaxy – The latest game from PixelJunk series developer Q-Games. Find details, videos, and screenshots here.
PIX the CAT – A fast-paced action game developed for arcades and combining gameplay elements from Snake, Pac-Man, and Bomberman. See gameplay here.
Until Dawn – The Supermassive Games-developed PlayStation Move-enabled horror game for PlayStation 3, first announced in 2012 and silent since, is now a PlayStation 4 title.
The Unfinished Swan – This one isn't a surprise. The Giant Sparrow-made first-person puzzle adventure game is also coming to PS Vita, though that version doesn't seem to be on display at Gamescom.
Find the full lineup below.
PlayStation 4
Alien: Isolation
Assault Android Catcus
CounterSpy
Destiny
Diablo III: Reaper of Souls – Ultimate Evil Edition
Disney Infinity 2.0
Driveclub
Far Cry 4
Galak-Z: The Dimensional
Guns Up!
Helldivers
Hustle Kings
inFAMOUS: First Light
Journey
Killzone: Shadow Fall Intercept
The Last of Us Remastered
LEGO Batman 3: Beyond Gotham
LittleBigPlanet 3
Middle-earth: Shadow of Mordor
Minecraft: PlayStation 4 Edition
NBA 2K15
Nom Nom Galaxy
Nuclear Throne
The Order: 1886
PIX the CAT
Project Cars
SingStar: Ultimate Party
Super Exploding Zoo
Surgeon Simulator
The Unfinished Swan
Until Dawn
WWE 2K15
PS Vita
BigFest
Dragon Fin Soup
Entwined
Final Horizon
Flame Over
Freedom Wars
Frozen Synapse Tactics
Futuridum Extended Play Deluxe
Hatsune Miku: Project DIVA F 2nd
Hohokum
Hotline Miami 2: Wrong Number
Invizimals: The Alliance
LEGO Ninjago: Nindroids
Minecraft: PlayStation Vita Edition
Murasaki Baby
PlayStation Vita Pets
The Ratchet & Clank Trilogy
The Sly Trilogy
Soul Sacrifice Delta
Super Exploding Zoo