Yokai Watch 2 has a multiplayer action game mode
Plus, some of the various things you'll be able to do in town.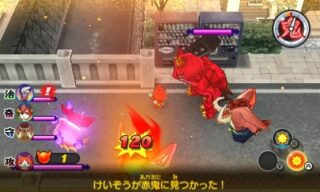 Yokai Watch 2 will have a new "Yokai Watch Busters" mode, which, different from the game's turn-based RPG style, allows up to four players to band together and fight demons in a full-scale action game.
The general Yokai Watch Busters game will have players choosing a course, a yokai to play as, and together, players must proceed to the exit within the time limit. You'll find many demons patrolling along the way. If your health reaches zero, it will be game over. Depending on the number of "Demon Orbs" you pick up, you'll get different end-course rewards.
Outside of Yokai Watch Busters, there is also your standard multiplayer mode, pitting player against player in turn-based RPG battles. You'll be able to play against friends or people you don't know via internet play. You can also trade yokai with friends.
Level-5 also shared details on some of the new things you'll be able to do in town. Here's what you might come across:
A Lost Grandma – Oh no, a grandma is lost! Help her get to where she needs to be for a reward.
Whimsy Gates – You'll discover a number of gates throughout town, each with a different mission to complete. One might task you with clearing a certain number of enemies, for example. Another might give you a time limit, or pit you against a powerful boss enemy. You'll get a "Gate Ball" each time you clear a gate, and there's a special reward for those who collect a lot them.
Oden Food Carts – At night, Oden food carts will always appear somewhere in town. Although there are some human-run food carts, you'll also come across the food cart of yokai Oden Jin, who's searching for the finest ingredients for his oden.
Fox Marital Processions – When you come upon fox spirit weddings taking place, you must keep your human status from being exposed. To do that, you'll have to adopt the same poses that the foxes on screen, as well catch fireballs that pop out by spinning the outer circle on the touch screen.
Wandering Tunnel – There is a tunnel in the mountains whose length changes each time you enter. No one knows where it ends, and you can only enter once a day.
Mystery of the Bulletin Board – Mysterious bulletin boards will appear all over town. If you solve their riddles, a monster will be summoned, which can have various effects. In one case, we have a Robo-Nyan breaking through a rock that blocked the player from progressing where he previously could not.
Finally, if you decide to purchase both the Ganso and Honke versions of Yokai Watch 2, you'll gain access to this neat looking special dungeon.
Yokai Watch 2 is due out for 3DS in Japan on July 10.
View a new set of screenshots at the gallery.