[Update] Hyrule Warriors Japanese release date set
Dynasty Warriors-like Zelda arrives in mid-August.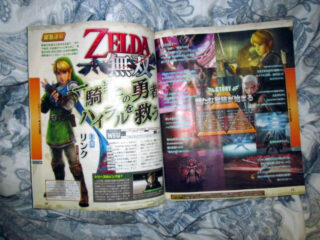 Hyrule Warriors, Nintendo and Tecmo Koei's upcoming Dynasty Warriors-like Zelda game, will launch for Wii U in Japan on August 14, the latest issue of Famitsu reveals.
The magazine also appears to have first details on the game's story. But until clearer scans or information are out, we won't be able to tell you about it.
Thanks, Otakomu.
Update: Additional details have surfaced via [email protected]. As per usual, some of the information is censored. Here's what we can make out:
The game will cost 7,000-something yen at retail and 6,000-something yen via the Nintendo eShop. A Premium Box will be released for 10,000-something yen.
Development is being handled by Omega Force and Team Ninja.
Hisashi Koinuma and Yosuke Hayashi are producing. Eiji Aonuma is supervising.
Link, alongside characters like Impa, will face against a new witch enemy named Shea, as well as her subordinates Va** and Wi**.
Shea is controlled by a dark evil power and Link goes in search of the missing Princess Zelda.
Fields include "Hyrule Plains," etc.
A surprising character will be playable.