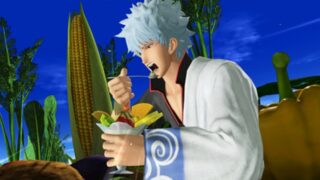 This week's J-Stars Victory VS gameplay shows off Sakata Gintoki, Ichigo Kurosaki, Sawada Tsunayoshi and Reborn, and Tatsumi Oga and Baby Beel.
Previously, we've seen Medaka, Taro Yamada, Jonathan Joestar, Meisuke Nueno, Toriko, Pegasus, Momotaro, Arale, Korosensei, Luckyman, Bobobo-bo Bo-bobo, Gon, Goku, Himura Kenshin, Luffy, Kankichi Ryotsu, Yusuke Urameshi, Kenshiro, and Naruto.
The Jump fighter is due out for PlayStation 3 and PS Vita in Japan next Wednesday, March 19. Watch the new footage below.
Sakata Gintoki
Ichigo Kurosaki
Sawada Tsunayoshi and Reborn
Tatsumi Oga and Baby Beel