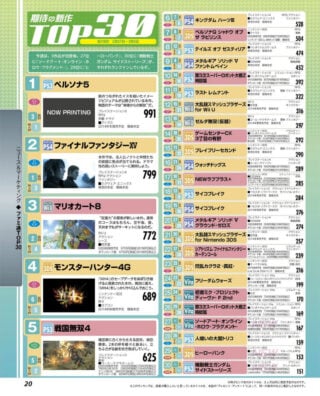 After falling from its number one spot last week, Persona 5 returns as Famitsu readers' most wanted game this week.
Final Fantasy XV, which overtook it, sits in position two. And Monster Hunter 4 Ultimate is back in the top five at position four after missing it last week.
New on the chart this week are Sword Art Online: Hollow Fragment, Hero Bank, and Mobile Suit Gundam Side Stories. All three sit near the end of the chart.
Get the full chart below.
02/01. [PS4] Final Fantasy XV (Square Enix, TBA) – 799 votes
04/06. [3DS] Monster Hunter 4 Ultimate (Capcom, Fall 2014) – 689 votes
05/05. [PS3] Samurai Warriors 4 (Tecmo Koei, 03/20/14) – 625 votes
06/07. [PS4] Kingdom Hearts III (Square Enix, TBA) – 528 votes
07/08. [3DS] Persona Q: Shadow of the Labyrinth (Atlus, 06/05/14) – 504 votes
08/12. [PS3] Tales of Zestiria (Namco Bandai, TBA) – 474 votes
09/04. [PS4] Metal Gear Solid V: The Phantom Pain (Konami, TBA) – 452 votes
10/14. [PS3] 3rd Super Robot Wars Z Jigoku-Hen (Namco Bandai, 04/10/14) – 392 votes
11/22. [PS3] The Last Remnant (Square Enix, itscomingpromise) – 322 votes
12/19. [Wii U] Super Smash Bros. for Wii U (Nintendo, 2014) – 316 votes
13/16. [Wii U] Hyrule Warriors (Tecmo Koei, 2014) – 297 votes
14/18. [3DS] Game Center CX 3-Chome no Arino (Namco Bandai, 03/20/14) – 292 votes
15/11. [3DS] Bravely Second (Square Enix, TBA) – 290 votes
16/21. [PS4] Watch Dogs (Ubisoft, 2014) – 289 votes
17/10. [3DS] New Love Plus+ (Konami, 03/27/14) – 285 votes
18/13. [PS3] The Evil Within (Bethesda Softworks, 2014) – 284 votes
19/15. [PS4] The Evil Within (Bethesda Softworks, 2014) – 276 votes
20/27. [PS4] Metal Gear Solid V: Ground Zeroes (Konami, TBA) – 274 votes
21/20. [3DS] Super Smash Bros. for Nintendo 3DS (Nintendo, 2014) – 257 votes
22/17. [3DS] Theatrhythm Final Fantasy: Curtain Call (Square Enix 04/24/14) – 239 votes
23/25. [3DS] Senran Kagura 2: Deep Crimson (Marvelous AQL, 08/07/14) – 216 votes
24/23. [PSV] Freedom Wars (SCEJ, Summer 2014) – 199 votes
25/24. [PSV] Hatsune Miku Project DIVA F 2nd (Sega, 03/27/14) – 170 votes
26/29. [PS3] 3rd Super Robot Wars Z Jigoku-Hen (Namco Bandai, 04/10/14) – 169 votes
27/— [PSV] Sword Art Online: Hollow Fragment (Namco Bandai, 04/24/14) – 167 votes
28/26. [PS3] The Last Guardian (SCEJ, TBA) – 159 votes
29/— [3DS] Hero Bank (Sega, 03/20/14) – 153 votes
30/— [PS3] Mobile Suit Gundam Side Stories (Namco Bandai, 05/29/14) – 151 votes
Total votes: 11,316