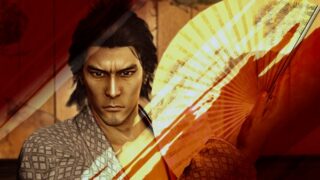 Sega updated the official Yakuza: Ishin website today with new details and screenshots on the game's play spots, real-world tie-ins, and training methods.
Find the information compiled below. View the screenshots at the gallery.
Play Spots
Utagoe Bar
The series' popular karaoke play spot will appear in Yakuza: Ishin as an Utagoe Bar. By pushing buttons to the rhythm, players can stir up bar-goers. It's the same humorous interjection and singing scenes of extreme intensity expressed in the series' karaoke up until now. Starting with Okita, players will be able to sing together with characters they become acquainted with during the game.
Japanese Dance
An Edo-era dance game where Ryoma dances and players match button presses to the tune with good timing. By inputting consecutive correct button presses, players' "Climax Performance" gauge will accumulate, allowing Ryoma to perform his ultimate dance.
Chicken Contest
Similar to horse racing, this is a game in which you place bets on chicken races. While considering the results of previous races, as well as each chicken's different abilities, players can make their choice. It is possible to win a large sum of money through these bets.
Udon Shop
In an unexpected turn of events, Ryoma becomes a salesperson at an udon shop. Players will have to remember the customers' orders and prepare their udon as requested. Perform well and raise sales, and it's possible you'll receive a higher salary from the manager.
Ageya (Brothel)
In the Kyoto red light district is a brothel where players can drink with the prostitute Anna while enjoying a variety of games. Play well and you'll be rewarded with a sexy scene.
Drinking Contest – Compete in a contest of who can drink the most alcohol. Prevent your liquor from spilling and drink up. Get Anna drunk and make her give up to attain victory.
Rock-Paper-Scissors – A rock-paper-scissors showdown where the loser strips down. Repeatedly win and Anna will undress, steadily increasing the game's sexiness. But lose, and it's Ryoma who will have to undress.
Looking Out for Anna- A shooting game where players must care for Anna and destroy the source of her drunkenness. Skillfully fend off the causes of her intoxication, called "Buzzkill Blocks," to be rewarded with a sexy scene.
Tie-Ins
Like previous Yakuza games, Yakuza: Ishin features several tie-ins with real-world shops. Here's what shops you'll see in the game:
Sushi Zanmai
Don Quxiote
Hanamaru Udon
Kamatora
Izakaya Hanako
Shogoin Yatsuhashi
Fujisoba
Watami
Training
Scarecrow Mansion
A mansion made by the expert Juubei, a man with a great love for mechanisms. The inside of the house features various mechanisms composed of state of the art "Scarecrows." Wield a sword or shoot a gun to destroy a certain number of scarecrows within the time limit as you progress through the house. Clearing missions can result in armor materials and all sorts of items as a reward.
Cannon Ball Charge
In the riverside of the ruined district, players can try the mini-game "Cannon Ball Charge" with a huge cannon. Here, the new defense expert apprentice Juubei operates a cannon that shoots artillery shells while you use a sword and pistol to destroy each one that flies your way. If you time it right, you can cut a shell right in half by slashing the front of it with the blade. Otherwise you can use the pistol to rhythmically take out a consecutive number of shells midair. Break more shells than the determined number and you can earn a reward.
Wood-Chopping
An old man who's been chopping wood for 50 years asks for help in the town of Fushimi, so Ryoma lends his assistance. This is a mini-game where players must swing the axe in a timely manner. The amount of pocket money you can earn from the old man depends on the amount of wood you chop.
Yakuza: Ishin is due out for PlayStation 4 and PS3 on February 22 in Japan.