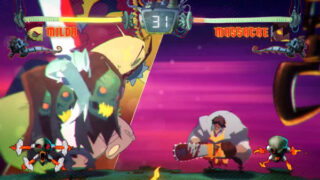 Origo Games and Crazy Piranha Entertainment are working on a new 2D horror fighting game franchise called The Chainsaw Incident, the duo announced.
Due out for PlayStation 4 and PS Vita, the game, which boasts fighters with names like "Milda" and "Massacre," will feature 26 characters when it launches.
According to Origo's Adam McClard, the project is still in "very early development." And while it's currently a "Sony console exclusive," McClard wouldn't rule out a PC release. "But at this moment it is not planned for launch," he said. A PlayStation 3 version is also "possible," and will be decided based on fan feedback.
McClard added that it will be a very community-involved process. A Kickstarter campaign is planned to launch towards the end of February / early March.
Watch a teaser trailer below. Visit the game's official website here.