Persona Q: Shadow of the Labyrinth announced for 3DS
A dungeon crawling spin-off featuring chibi Persona 3 and 4 characters.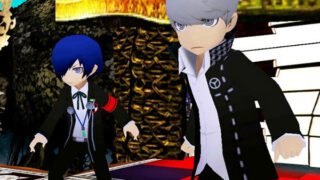 Atlus has announced Persona Q: Shadow of the Labyrinth for 3DS.
The spin-off, which features chibi versions Persona 3 and Persona 4 characters, is due out in Japan on June 5, 2014.
Here's the story: During the Yasogami High School culture festival, a clock tower appears in the school yard and the heroes of Persona 4 hear the echo of a ringing bell. The sound of that bell reaches the world of Persona 3, and its heroes, who were fighting Tartarus, are suddenly transported to Yasogami High School and trapped.
To return to their original worlds, the characters from Persona 4 and Persona 3 must try to get back the lost memories of new characters Zen and Rei, who seem to hold the key to this incident, and go dungeon-crawling to fight shadows.
Players can become Persona 3's Specialized Extracurricular Execution Squad or Persona 4's Investigation Team. Depending on which you choose, the dialogue changes, and the events with characters from that game will be depicted in more detail.
The game adopts an Etrian Odyssey-like command-based battle system. Being led by the same director, it also has a focus on dungeon crawling.
The game's key staff inclues Katsura Hashino (Chief Producer), Daisuke Kaneda (Director), Shigenori Soejima (Character Design), and Shoji Meguro (Composer).
Watch the debut trailer below. Visit the game's official website here.
Thanks, Famitsu.