Deep Down's emotion-based dungeons detailed
Details on the player's weapon and armor coming next week.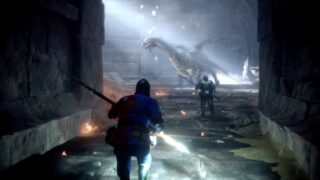 This week's Deep Down Facebook update discusses the upcoming PlayStation 4 RPG's dungeons.
Within dungeons exist residual thoughts called "mementos," and the ones you can get change according to a dungeon's "emotions."
Emotions, such as anger and sadness, exist in great numbers, and a dungeon's contents will significantly change to match its emotion.
For example, a dungeon of anger would feature blazing flames, and a dungeon of sadness would be bound with thick ice. Dungeon capture methods also vary.
At the Tokyo Game Show, we saw dungeons of the joy emotion. Although dark, the light that shined in at certain points were portrayed as expressions of hope.
During next week's update, Capcom will share more details about the player character, particularly focused on his weapons and armor.