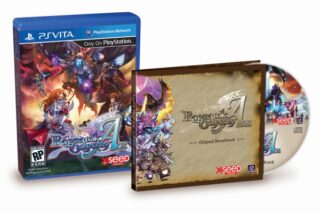 Ragnarok Odyssey Ace will launch for PlayStation 3 and PS Vita in North America and Europe in early 2014, XSEED Games has announced.
When the game was first confirmed for localization back in May, XSEED had only clarified a winter release.
Both versions will cost $39.99. The PS Vita version will ship with 25 song a bonus soundtrack CD, including "Roar of the Black Dragon" from Nobuo Uematsu.
Existing Ragnarok Odyssey players can import their characters' physical appearance, voice, job, class, and cards (except for those equipped to clothing at the time of transfer) to Ragnarok Odyssey Ace.
Both new and returning players will start the game from the beginning. You'll find new skills, items, and quests, including a new 100-floor dungeon called the Tower of Yggdrasil, throughout the main story.
Ragnarok Odyssey Ace is already out in Japan and is receiving its 1.10 patch this week, which adds new daily quests, online rankings, log-in bonuses, random card draws, and special rare random card draws. These patches won't be included on disc in the western release, but will come out post-launch.
View a new set of screenshots at the gallery.