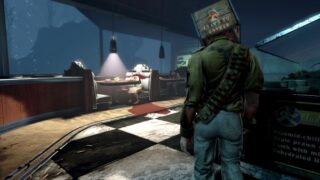 BioShock Infinite's first downloadable expansion, 'Burial at Sea Episode 1,' will launch across PlayStation 3, Xbox 360, and PC on November 12, 2K Games announced.
The expansion brings players back to Rapture, the original BioShock's underwater city, on the eve of its fall. It promises a re-balanced combat experience with greater emphasis on stealth and resource management, a new weapon, an old favorite returning from the original BioShock, the return of the weapon wheel, a new Plasmid, new Gear, and Tears.
'Burial at Sea Episode 1' will be available for $9.99 / £9.99. It is also included in the BioShock Infinite season pass.