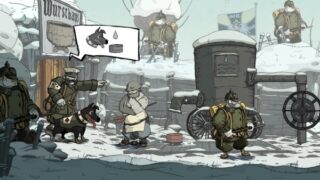 Child of Light isn't Ubisoft's only UbiArt Framework project currently in production. Rayman Legends studio Ubisoft Montpellier is developing Valiant Hearts: The Great War, a digital download puzzle adventure game for PlayStation 4, Xbox One, PlayStation 3, Xbox 360, and PC, which follows five characters from different countries as they struggle to survive the first World War.
The game draws its five characters together by the common cause of reuniting a young German soldier with his lost love. The five suffer through unimaginable dangers in the trenches, but are guided by a canine companion separated from its owner during an artillery attack. The dog will help the characters survive and advance through action sequences and puzzles.
Some puzzles might include obstacles with items salvaged from the battlefield. For example, players may have to command the dog to crawl under barbed wire to fetch a piece for a puzzle. Or use the PlayStation 4 touchpad to interact with the world, drawing an arc to throw grenades, or to pet the dog.
Valiant Hearts: The Great War is due out in 2014. Watch the debut trailer below. View the first screenshots at the gallery.
Thanks, PlayStation Blog.