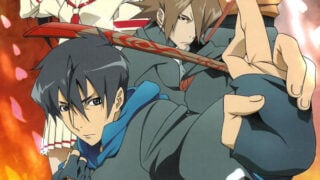 Mato Kurenai Yuugekitai: Tokyo Twilight Ghosthunters is in production for PlayStation 3 and PS Vita at HomeTown Story developer Toybox Games, the latest issue of Weekly Famitsu reveals.
Due out next year in Japan under the publishing arm of Arc System Works, the juvenile romance adventure RPG is directed by Tokyo Majin Gakuen's Shuuhou Imai, produced by Deadly Premonition's Tomio Kanazawa, and has character design by Uta no Prince-sama's Chinatsu Kurahana. Nobuo Uematsu is composing the game's opening and The Key Project is handling music.
The game has a total of 13 episodes, each one combining adventure and battle parts. The first episode is set at Kurenai Academy Senior High School in Shinjuku. It shares the same world outlook as Imai's past works. Battle scenes are in 3D.
With its Live Motion Effect system, the game's characters move around as if they're alive. Revealed characters include someone in a sailor outfit, a man with glasses in a wheelchair, and a large-chested woman.
Mato Kurenai Yuugekitai: Tokyo Twilight Ghosthunters will be playable at the Tokyo Game Show, which runs from September 19 to 22.
Thanks, Game Nyarth, Re: Gigen.