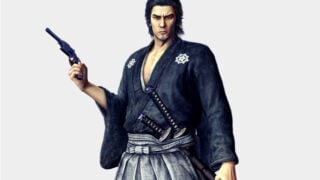 There's a lot of news bits in this week's Famitsu, a lot of it from games announced at Monday's SCEJA Press Conference. Find the round-up below.
Natural Doctrine (PS4, PS3, PSV) – February 22
Producer: Kensuke Tanaka
Cross-play and cross-save supported
Valisi, an anime-style female swordsman, introduced
Screenshots and preliminary story info here
Soul Sacrifice Delta (PSV) – March 2014
Can use save data from Soul Sacrifice
Graphics, AI, and system have been given full model changes
Danganronpa: Another Episode (PSV) – Pending
Story set between Danganronpa 1 an 2
Disgaea 4: Return (PSV) – Pending
A trailer will be published on the official site tomorrow
Dynasty Warriors 8: Xtreme Legends (PS4, PS3, PSV) – November 28 (PS3, PSV), February 22 (PS4)
New characters: Yu Jin (voiced by Atsushi Miyauchi) and Chen Gong (voiced by Hiromu Miyazaki)
PlayStation 4 version is full HD and has higher frame-rate than PlayStation 3 version
The PlayStation 4 version likely won't have exclusive elements
The amount of on-screen characters and movements have been improved
PlayStation 4 developer impressions: "Development is easy!"
New Atelier Rorona: The Origin Story of the Alchemist of Arland (PS3, PSV) – November 21
Totori and Meruru will make an appearance. Each seem to come separately from the distant future. They'll also participate in battle.
BlazBlue: Chrono Phantasma (PS3) – October 24
New character Kokonoe (voiced by Chie Matsuura) introduced
Gundam Breaker (PSV, PS3) – October 31
New rules introduced for Area Raid Battle and Team Attack Battle
Yakuza: Ishin (PS4, PS3) – February 22
Actor Eiichiro Funakoshi will play Kondo Isami
Yakuza character Yoshitaka Mine will play Hijikata Toshizo (voiced by Nakamura Shido)
Yakuza character Shintaro Kazama will play Yoshida Toyo (voiced by Tetsuya Watari)
Yakuza character Hiroshi Kugihara will play Yamazaki Susumu (voiced by Nobutoshi Canna)
Phantasy Star Nova (PSV) – 2014
tri-Ace developing, aims to have that expression of the company's soft light characteristic
Three main characters. The main hero, Kuri, might have his eye on the heroine Rutina.
Has ad-hoc multiplayer, story mode for single-player
Costumes can become damaged, falling apart, ripping, etc.
More than 70 main staff and over 200 people working on the project
Lightning Returns: Final Fantasy XIII (PS3, 360) – November 21
Caius and Paddra Nsu-Yeul confirmed to appear
Thanks, Game Nyarth.