Crimson Dragon to launch at $19.99
New screenshots from the Tokyo Game Show.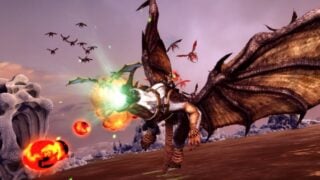 Crimson Dragon will cost $19.99 when it launches with Xbox One on November 22, Microsoft announced at the Tokyo Game Show.
The flight-based shooter from Grounding, Inc. and Panzer Dragoon creator Yukio Futatsugi enables players to control a powerful dragon and take to the skies on a planet ruled by dragons, where humanity has been driven to the brink of extinction.
Consumers who purchase the game before December 31 will receive an exclusive dragon for use in the game.
View a new set of screenshots at the gallery. If you missed it, catch the Tokyo Game Show trailer here.