Yakuza: Ishin hardware announcement due before TGS
Majima Goro confirmed to be playing Okita Soji.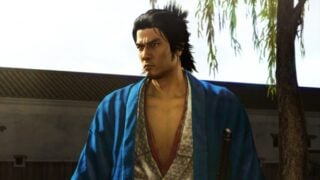 Yakuza: Ishin was announced without a platform, though its appearance in Dengeki PlayStation this week suggests it's coming to a PlayStation console. Series creator Toshihiro Nagoshi previously said Yakuza 5 would be the last Yakuza game on PlayStation 3, suggesting Ishin to be a PlayStation 4 game. Our speculation will end before the Tokyo Game Show, which runs from September 19 to 22, as Nagoshi said on a live stream today the platform would be announced prior to the Chiba event. Perhaps, then, we'll see it at Sony Japan's September 9 press conference?
Nagoshi also revealed that Majima Goro, the series' much-loved Majima Family boss, will play the role of Okita Soji in the game's Meiji Restoration-set story. Okita was the captain of the first unit of the Shinsengumi, which protagonist Kazuma Kiryu, playing Sakamoto Ryoma, will join under the name of Saito Hajime.
Outside the live stream, Sega confirmed Daigo Dojima to be appearing as Tokugawa Yoshinobu, the 15th and last shogun of the Tokugawa shogunate of Japan.
Thanks, My Game News Flash.