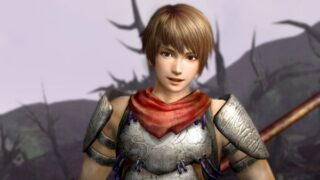 Tecmo Koei has released the debut trailer for Warriors Orochi 3 Ultimate, coming to PlayStation 3 and PS Vita in Japan on September 26.
The company also announced the PlayStation 3 version will include a set of exclusive collaboration costumes for use in Dead or Alive 5 Ultimate as a first-run bonus. Players will be able to dress Kasumi like Gracia, Ayane like Wang Yuanji, and Momiji like Sanzang Fashi. The DLC can be used in both the packaged and free versions of Dead or Alive 5 Ultimate. Though, since Momiji is not available without purchase in the free version, you'll have to purchase her to use the costume.
Watch the trailer below. View screenshots of the Dead or Alive 5 Ultimate costumes at the gallery.