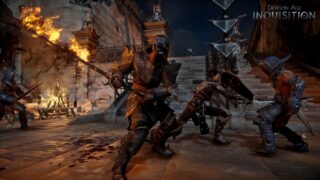 Electronic Arts and BioWare premiered the first gameplay footage and new screenshots of Dragon Age: Inquisition at PAX Prime in Seattle tonight.
Several outlets have gone up with new previews. Have your pick: Destructoid, Digital Spy, The Escapist, Eurogamer, GameFront, Game Informer, Gamereactor, GameSpot, GamesRadar, Kotaku, IGN, OXM, PC Gamer, Polygon, Rock Paper Shotgun, Videogamer.
Gameplay comes in both direct-feed and off-screen versions. Both Eurogamer and Rev3 Games' previews include small bits of direct-feed footage.
One attendee recorded a 14-minute gameplay presentation.
https://www.youtube.com/watch?v=1WeZbGRglWs
View the new screenshots at the gallery.