Ace Attorney: Dual Destinies SDCC gameplay, screenshots
Mee the mysterious new prosecutor Simon Blackquill.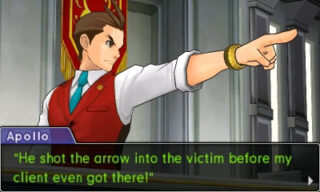 Capcom has released two new gameplay videos and a batch of screenshots for Phoenix Wright: Ace Attorney: Dual Destinies ahead of its showing at the San Diego Comic-Con this weekend.
The video is taken directly from the playable Comic-Con build and introduces the series' mysterious new prosecutor Simon Blackquil. The screenshots are taken from "Episode 3: Turnabout Academy," in which an incident at the Themis Legal Academy sees young law student and friend of Athena Sykes, Juniper Woods, arrested for the murder of Constance Courte. Apollo Justice and his team are tasked with defending the accused against the returning German prosecutor and guitar player Klavier Gavin.
Watch the gameplay below. View the screenshots at the gallery.