Mamorukun Curse! coming to PSN on July 16
G.rev-developed shoot 'em up to cost $19.99.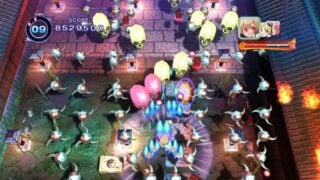 G.rev-developed top-down shooter Mamorukun Curse! will come to PlayStation Network in North America on July 16 for $19.99, publisher UFO Interactive has confirmed.
The shoot 'em up follows Mamorkun and other Chosen Souls who have been plucked from the realm of the Living and tossed into the Netherworld. Forgetting how they ended up there, the Chosen Souls are ordered by Ms. Fululu to assist her in restoring balance to the Netherworld and stopping the World of Darkness from taking over by sealing the gates that separate each world.
The game features seven playable characters, each with different mechanics and attack patterns, three gameplay modes (Netherworld Action Mode, Arcade Mode, and Story Mode), online leaderboards, 66 trophies, and all previously released download content from the original Japanese version (two extra Netherworld Adventures courses; two additional playable characters: Nowa and Rukino for use in Arcade Mode and Netherworld Adventures Mode; and alternate costumes for all seven characters).
Watch the announcement trailer below. View a new set of screenshots at the gallery.