Fairy Fencer F detailed in Famitsu
Become a Fencer and wield your Fury.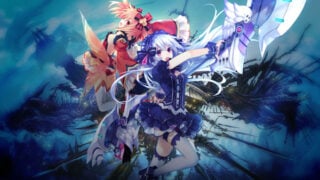 The first game under Compile Heart's new Galapagos RPG brand is Fairy Fencer F, a fantasy RPG for PlayStation 3 developed by Neptune Team, featuring concept art from Yoshitaka Amano, music from Nobuo Uematsu and the Earthbound Papas, and character design from Date A Live's Tsunako.
Famitsu this week has first details on the RPG. Find our summary below, courtesy of [email protected].
Story
Long ago, wicked gods and goddesses quarreled, though somehow or another they disappeared somewhere. The time is the modern age. The weapons that remained from the quarrels are called "Furies" and those who wield them are called "Fencers." Fang had just become a Fencer when he rescues an assaulted girl named Tiara, who is also a Fencer.
Characters
Fang (voiced by Ryota Oosaka) – The main character who accidentally became a Fencer.
Tiara (voiced by Kaori Ishihara) – A young girl with Gothic clothing and silver hair. In order to undo a goddess' seal, she is collecting Furies.
Alyn (voiced by Rumi Ookubo) – She has shoulder length hair and wears a super short skirt. She's another heroine, the saint that dwells within Fang's Fury.
??? – There is another female character with black hair, but her details are unknown.
Battle
You gain weapon points in battle to power up your Fury. And in battle, you can use combos and magic.
Graphics
In general, enemies are regular monsters like in Hyperdimension Neptunia. The graphics seem to have been improved, however.
Visit the game's official teaser site here.
Interview
Outside of Fairy Fencer F, the magazine also sat down with Idea Factory president Shingo Kuwana and game development boss Norihisa Kochiwa. Here are a couple of interesting excerpts:
Kuwana: "We're thinking about developing for PS Vita in the future."
Kochiwa: "Since game development for PlayStation 4 is already underway, I want to make the marketplace firm. It's not PlayStation 4's specs but the dimensions of how you play that is different, so it's about how to use our own expertise to make a splash there."