Tales of Xillia U.S. release date set
"Please look forward to more announcements."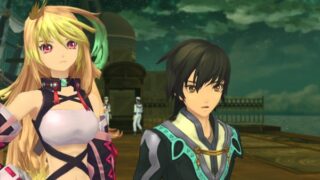 Tales of Xillia, Namco Bandai's 15th anniversary Tales RPG, will launch for PlayStation 3 on August 6 in North America, the publisher confirmed at a media event in New York yesterday. 
Additionally, speaking to Kotaku, Tales series producer Hideo Baba discussed the possibility of seeing PS Vita remakes Tales of Innocence R and Tales of Hearts R overseas. It's not very likely.
"Unfortunately, at this present time we don't have any plans to release any of the Vita titles," Baba said. "One of the main reasons is, unfortunately the PlayStation Vita is doing relatively poorly in North America, so it's one of those things that if the numbers increased considerably, then it's something we could consider."
Quizzed on his earlier statement that this would be a "Taleso of filled year," he said "I can't say much yet," the producer answered, smiling, "but please look forward to more announcements."