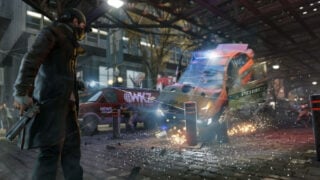 Ubisoft's bringing a lineup of heavy hitters to this year's PAX East in Boston, set to take place at the Boston Convention and Exhibition Center from March 22 to 24.
Find the full lineup below.
Heavy Hitters (pre-order any of these games at Ubisoft's booth for a free t-shirt)
Assassin's Creed IV: Black Flag (PS3, PS4, 360, Wii U, PC) – A fully-enclosed theater will treat attendees with an exclusive look at the new game, set during the Golden Age of pirates, and introduce new hero Edward Kenway, a pirate trained by assassins. Similar to last year's inflatable tomahawk, session attendees this year will receive an inflatable cutlass sword, and can take pictures with the game's new hero in a photo booth.
Splinter Cell: Blacklist (PS3, 360, PC) – A new demo of the upcoming title will be on display.
Watch Dogs (PS3, PS4, 360, Wii U, PC) – Never-before-seen footage of Watch Dogs will be unveiled in a closed theater presentation. All session attendees will receive a PAX East-exclusive Watch Dogs lanyard.
PC Games (playable at booth)
ShootMania Storm
Might & Magic Heroes VI: Shades of Darkness
Might & Magic: Duel of Champions Online (also on iOS)
Digital Games (playable at booth)
Call of Juarez: Gunslinger (PSN, XBLA)
Spartacus Legends (PSN, XBLA)