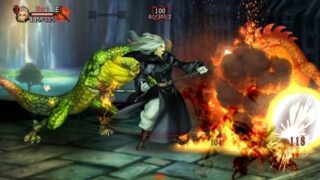 Dragon's Crown will launch for PlayStation 3 and PS Vita in North America this summer, publisher Atlus has announced. A Japanese release was previously confirmed for July 25.
The VanillaWare-developed hack and slash, beat 'em up action RPG will cost $49.99 on PlayStation 3 and $39.99 on PS Vita. It will be available at retail and on PlayStation Network.
In Dragon's Crown, players will 'bludgeon, cleave, shoot, and loot' their way through side-scrolling dungeons; encounter non-player characters like Samuel the Adventurer's Guild leader, Lucain the wizard, and Rannie the thief, who will join players to help them pick locks, open treasure chests, and reveal hidden passageways; take on various quests and tasks; and unravel the story behind the "ultimate treasure," the Dragon's Crown.
The game will feature six playable character classes, each with their own set of unique abilities, and support up to four-person cooperative play (drop-in multiplayer on PlayStation 3 or adhoc network play on PS Vita; cross-play is not supported).
Characters can be upgraded through a "massive skill tree," whether it's "beefing up health or magical abilities, or tweaking the abilities of individual characters."
Playable classes include:
The Fighter: Uses his armor and quick-hitting attacks to tank and destroy enemies.
The Dwarf: Specializes in getting up close and personal with grapple attacks.
The Amazon: Moves quickly and wields a giant axe to unleash massive damage.
The Wizard: Blasts fire at single targets or in pillars to incinerate foes.
The Elf: Uses her bow and agility to launch devastating volleys and escape danger.
The Sorceress: Uses ice magic and summoned skeletons to control the battlefield.
View a new set of screenshots at the gallery.