Atelier Escha & Logy revealed for PlayStation 3
Two protagonists, two perspectives, six-person battles.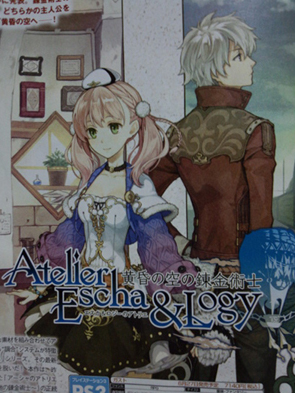 The next Atelier game is a PlayStation 3 title starring two protagonists and running on the Dynasty Warriors engine, this week's Dengeki PlayStation reveals. Atelier Escha & Logy: Alchemist of Dusk Sky is due out on June 27 in Japan for 7,140 yen.
Escha Malier (voiced by Rie Murakawa) is our 15-year-old female protagonist. Her mother taught her the basics of alchemy, but she's self-taught for the most part, thus not very experienced. She is described as pure-hearted, and also has a tail.
Logix Ficsario (voiced by Kaito Ishikawa) is our 18-year-old male protagonist. He wields an alchemical sword, the product of fencing and alchemy, but is not very familiar with the old alchemy used by Escha. He is described as the game's dreamiest character.
There are other characters, too, but they're still under wraps. From how the details are worded, it sounds like characters from Atelier Ayesha could also appear, only older. Though, we can't be too sure.
At the start of the game, players can choose to play as Escha or Logix. Event scenes will change, point of view-wise, depending on the protagonist. Whether you're able to change protagonists during the actual game is unknown.
Battles will feature six party members—three members in the front and three in the back—who can be freely changed during battle. The "Support System" from the previous game will return. You can align your attacks with your ally and protect them from enemy attacks.
Atelier Escha & Logy aims to build upon the themes of friendship and trust. The main story is the same between both characters, but there will be exclusive events for each. There are multiple endings, and the meaning of the word "Sky" in the title is significant. It is unknown how many years the game is set after Atelier Ayesha.
Lip syncing and eye movement features that were not able to be implemented in Atelier Ayesha will also be present. The alchemy system will be based on Atelier Ayesha, but there will be new elements based on player feedback. A guide will be included for beginners.
First-run copies of Atelier Escha & Logy will include a download code for the PS2 Classic Mana Khemia 2. A limited edition is planned for 10,290 yen, but its contents have yet to be detailed.
Thanks, Game Jouhou.