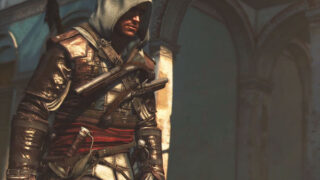 A day after its closed theater showing at PAX East in Boston, Ubisoft has shared Assassin's Creed IV: Black Flag's gameplay reveal with the world in an all new trailer.
Additionally, the publisher announced GameStop pre-orders include a download code for "The Black Island Pack," which includes four pieces of exclusive in-game content:
The dark and dangerous treasure-hunting quest: Black Island.
The deadly Black Ship.
Legendary silver flintlock pistols used by Captain Morgan.
Valuable multiplayer items including Captain Morgan's costume, picture, and title.
Assassin's Creed IV will launch for PlayStation 3, Xbox 360, and Wii U on October 29. The game will also come to PlayStation 4, PC, and "other next generation consoles."
Watch the trailer below. View a new screenshot at the gallery.