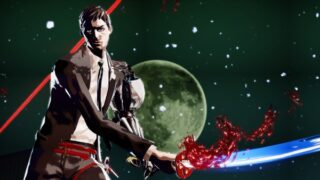 Killer is Dead will come to North America by the publishing hand of XSEED Games and to Europe and Australia by Koch Media label Deep Silver, Japanese publisher Kadokawa Games has announced.
Killer is Dead is created by Grasshopper Manufacture, the studio behind Lollipop Chainsaw and Killer7. It is due for PlayStation 3 and Xbox 360 this summer.
Set in a not-so-distant future similar to our own world, the game puts players in control of an executioner named Mondo Zappa, who executes criminals around the world with a Japanese sword in his right hand and an artificial left arm with changing weapons.
View five new screenshots at the gallery. Visit the game's official website here.