Mugen Souls Z announced for PlayStation 3
Sequel to this year's Compile Heart RPG due 2013 in Japan.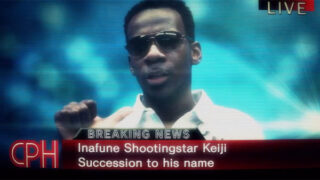 Dengeki this week reveals Compile Heart's latest game to be Mugen Souls Z, a sequel to this year's Mugen Souls, for PlayStation 3.
The game will be produced by Keiji "Shooting Star" Inafune (not the real Keiji Inafune, also not Mugen Souls' "New Keiji Inafune"), directed by Kenta Kanno, feature character designs by Nanameda Kei, A-10, and Ryoji, and CG design by Katsuyuki Hirano. Tenpei Satou will compose the game's music, and Haru Akenaga will supervise.
Mugen Souls Z is set within the 12 worlds created by the ultimate god. Protagonist Shirma (CV: Sachika Misawa), another ultimate god, sets out alone on an adventure to obtain certain seals. Her weapons and bed are a coffin. And Chou-Chou, the first game's protagonist, rides in her hand.
Battle direction is said to be unexpected and featuring strong cooperative elements.
The game is due out in Japan next year. The standard edition will cost 7,329 yen. A limited edition including a booklet, DVD, CD, and Neptune, Noir, and Blanc avatar download codes will cost 9,429 yen. Pre-orders include a Nepgear and Vert avatar download code. Visit the game's teaser site here.
Thanks, Re: Gigen.