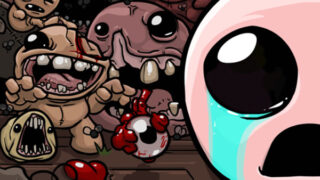 The Binding of Issac creator Edmund McMillen has confirmed he's bringing The Binding of Issac: Rebirth, a "totally remade" 16-bit game based on the flash version of The Binding of Isaac: Wrath of the Lamb, to PlayStation 3, PS Vita, and PC (Steam) through a partnership with Cave Story and VVVVVV studio Nicalis, who are developing the title.
The "remake" will include all of the content featured in Wrath of Lamb, two new playable characters, more items, rooms, enemies, and bosses, an additional "over the top" and "Wrath-sized expansion," and a new final chapter and ending. The goal, according to McMillen, is to make the game not only worth replaying, but also make it very "fresh and new." It will also feature "secret" content removed from the flash version due to technical limitations.
Rebirth will allow local two-player co-op, but not online co-op, as it will "just extend the release by another forever."
Edmund McMillen will act as the game's lead designer. He chose to take the 16-bit route because he thinks the art is "tired" and he is "sick of looking at it." Danny B. will produce new music for the game, as well as "spicy remixes" of old tracks.
The Binding of Issac: Rebirth will go into full production in January 2013. Development is scheduled to wrap up by the year's end. As far as Xbox 360 an Wii U go, Nicalis are in talks with both Microsoft and Nintendo about bringing the game to their platforms, but nothing's been announced. An iOS version is also planned, "if it's not garbage."