Bravely Default: Revive a fallen city through co-op play
New bits of info from next week's Jump.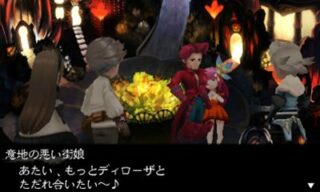 The latest issue of Jump has new tidbits on Bravely Default: Flying Fairy, Square Enix and Silicon Studios' October-due (in Japan) role-playing game for 3DS. This week's flying get includes new details on co-op play, and a fun opportunity for fans planning to attend the Tokyo Game Show later this month.
Here's the breakdown:
Spirit of the Crystal: Spirits are encased in crystals. Together with Anies (one of the game's four main characters), players will set out on a journey to release the crystals.
Through co-op play, you will be able to revive the fallen city of Noruende.
Through StreetPass and wi-fi, dwellers will increase within the city.
Square Enix is planning to distribute the game's final demo soon, which will have data that carries over to the full version. If you're attending the Tokyo Game Show, you can take this demo with you and StreetPass with the development team.
Thanks, Tale Tale Source.