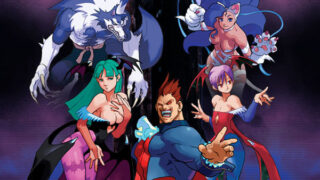 Street Fighter producer Yoshinori Ono is known for asking fans to hold up money as a method of showing support for a new Darkstalkers during Comic-Con panels. He would take a picture so he can show Capcom Japan there is demand for a new game in the franchise.
Not this year.
During the Street Fighter 25th Anniversary Celebration panel at Comic-Con in San Diego today, Ono touched on the subject of a new Darkstalkers, saying: "This year, you don't have to do that, and it's not necessarily bad news!"
He went on to add that if he says more, he'll probably get in trouble.
Back in March, a VentureBeat source claimed a new Darkstalkers, which uses a modified version of the Street Fighter X Tekken engine, is in development.
Tokyo Game Show, perhaps?
Thanks, Siliconera.