Toki to Towa: Limited Edition, new characters, and Final Bow Attacks
Latest details from Weekly Famitsu No. 1233.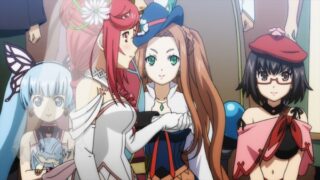 The latest issue of Famitsu has new details on Imageepoch's PlayStation 3 RPG, Toki to Towa.
As reported yesterday, the game will launch on October 11 in Japan. The standard edition will cost 7,980 yen. A limited edition, which includes a 48-page artwork booklet, soundtrack and voiced drama CD, redeem code for custom PlayStation 3 themes, and special storage box, will cost 9,980 yen.
Two new characters are introduced in the magazine.
Makimona (CV: Aya Endou) – she is the diviner who forteold of the attack at Toki and the hero's wedding. She has long purple hair and wears skimpy outfits.
Bikoddo (CV: Tomokazu Sugita) – a youth who leads some sort of assassin's guild. When Toki goes back in time, the two engage in battle.
Toki will first travel through time at the beginning of the game. After her wedding is attacked, her blonde alter-ego Towa will come out, and the events play out from there.
A small tidbit about the game's battle system: sometimes, during battle, you'll see a circle button appear above the enemies head. Press it with good timing, and Toki (or Towa) will perform an FBA (Final Bow and Attack) move.
Thanks, [email protected].