Tales of Xillia 2: Julius, Alvin, and Leia detailed
Clanspia agent, beard grower, and reporter.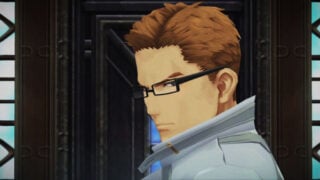 Following a Jump scan this morning, first details on Tales of Xillia 2's Julius, Alvin, and Leia have surfaced courtesy of Tale Tale Source.
Julius Will Kresnick – Ludger's brother; a Clanspia Corporation agent; has a very strong sense of responsibility. Quote: "Ludger, please believe me."
Alvin – currently struggling to put together a new business of transportation on the railroad track; is trying to grow a beard. Quote: ""I'm not a liar."
Leia Roland – a trainee reporter for the Elenpios newspaper. Quote: "I take pride in my work investigating the truth."
Previously, we reported that Alvin and Leia would take part in battle. It is unclear whether the same can be said for Julius, though in this morning's scan he is shown holding a weapon.