Rainbow Moon hits PSN next month
RPG hits Europe July 4. Exact U.S. date soon.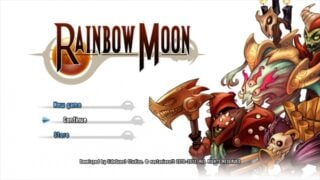 Eastasiasoft has announced it will launch its PlayStation 3 role-playing game Rainbow Moon on PlayStation Network next month. 
Europe, Australia, and other Sony Computer Entertainment Europe regions will get the game on July 4 for €12.99 / £9.99. North America, or any territory covered by Sony Computer Entertainment America, and Southeast Asia, including Hong Kong and Singapore, will get the game on an unspecified date in July ("exact release dates soon") for $14.99 / an equivalent of $14.99 for non-U.S. regions.
Additionally, Eastasiasoft has detailed download content set to launch after Rainbow Moon's release:
Rainbow Moon Beginner's Kit – FREE
Rainbow Moon 5,000 Rainbow Coins – US$ 0.49 / € 0.49
Rainbow Moon 35,000 Rainbow Coins – US$ 0.99 / € 0.99
Rainbow Moon 90,000 Rainbow Coins – US$ 1.99 / € 1.99
Rainbow Moon 270,000 Rainbow Coins – US$ 3.99 / € 3.99
Rainbow Moon 500 Rainbow Pearls (Baldren) – US$ 0.49 / € 0.49
Rainbow Moon 50,000 Rainbow Pearls (Baldren) – + Black Ring US$ 1.99 / € 1.99
Rainbow Moon 500 Rainbow Pearls (Trisha) – US$ 0.49 / € 0.49
Rainbow Moon 50,000 Rainbow Pearls (Trisha) – + Fire Ring US$ 1.99 / € 1.99
Rainbow Moon 500 Rainbow Pearls (Dozeru) – US$ 0.49 / € 0.49
Rainbow Moon 50,000 Rainbow Pearls (Dozeru) – + Pearl Ring US$ 1.99 / € 1.99
Rainbow Moon 500 Rainbow Pearls (Gorodo) – US$ 0.49 / € 0.49
Rainbow Moon 50,000 Rainbow Pearls (Gorodo) – + Fire Ring US$ 1.99 / € 1.99
Rainbow Moon 500 Rainbow Pearls (Zelorus) – US$ 0.49 / € 0.49
Rainbow Moon 50,000 Rainbow Pearls (Zelorus) – + Black Ring US$ 1.99 / € 1.99
Rainbow Moon 500 Rainbow Pearls (Serena) – US$ 0.49 / € 0.49
Rainbow Moon 50,000 Rainbow Pearls (Serena) – + Pearl Ring US$ 1.99 / € 1.99
Rainbow Moon Starter Pack (Small) – US$ 0.99 / € 0.99
Rainbow Moon Starter Pack (Medium) – US$ 1.99 / € 1.99
Rainbow Moon Starter Pack (Large) – US$ 2.99 / € 2.99
Rainbow Moon Amulet Set (Single) – US$ 0.99 / € 0.99
Rainbow Moon Amulet Set (Double) – US$ 1.49 / € 1.49
Rainbow Moon Amulet Set (Triple) – US$ 1.99 / € 1.99
Rainbow Moon Rainbow Pearls Bundle (Small) – US$ 1.99 / € 1.99
Rainbow Moon Rainbow Pearls Bundle (Large) – US$ 6.99 / € 6.99
Finally, find a new batch of 45 screenshots at the gallery. Expect new video footage "in the coming days."