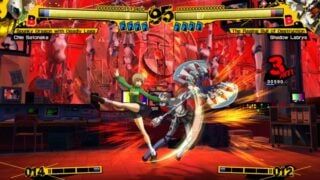 The latest batch of Persona 4 Arena screenshots focus on the spunky and tomboyish Chie Satonaka, one of thirteen characters in the upcoming Arc System Works-developed fighter.
Here's her official description: "A 3rd-year Yasogami High student who was on the Investigation Team. She loves steak, kung fu, and justice. Use her Persona, Tomoe, to get in close and KO the opponent with deadly kicks!"
Persona 4 Arena is due on August 7 for PlayStation 3 and Xbox 360 in North America and later this year in Europe.
View the screenshots, which include Chie's color variations, at the gallery.