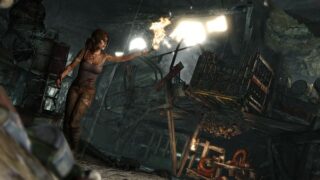 Square Enix has a huge lineup planned for E3 this year, which range from major titles such as Tomb Raider and Hitman: Absolution to smaller titles on iOS and Android. 
"At this year's E3, Square Enix will have one of the most comprehensive and diverse portfolios of titles available in its history," said Yoichi Wada, president and representative director of Square Enix Holdings Co., Ltd. "Our mission is to entertain and engage a wide range of consumers with the best possible interactive experiences."
"From fantasy worlds filled with some of the industry's most identifiable characters to innovative, original content, the lineup from Square Enix at this year's E3 is one of the strongest in the industry," said Mike Fischer, president and chief executive officer of Square Enix, Inc.
Square Enix's complete E3 lineup follows.
Consoles and PC
American Mensa Academy (PSN, XBLA, PC, iOS, Android) – due this summer – American Mensa Academy is a brain training game that will give player's minds the ultimate cerebral workout. Created in direct collaboration with Mensa, American Mensa Academy is packed with 100+ replayable levels of fun and stimulating mini-games and challenges for everyone, plus for those really looking to test their grey matter, there is a rigorous test designed to calculate your Mensa score, directly inspired by questions faced by those attempting to join the renowned global high IQ society.
Gameglobe (Browser) – due 2012 – Gameglobe is a unique browser-based experience that allows players free access to endless game worlds and creative possibilities, all in HD quality. Players can choose to either create their own game or simply play the multitude of levels available at launch.
Hitman: Absolution (PS3, 360, PC) – due November 20 – Hitman: Absolution follows Agent 47, a cold-blooded assassin, who takes on his most dangerous contract to date. Betrayed by those he once trusted — and now hunted by the police — he suddenly finds himself at the center of a dark conspiracy and must embark on a personal journey through a corrupt and twisted world.
Quantum Conundrum (PSN, XBLA, PC) – due June 21 on PC, summer for consoles – From the mind of Portal co-creator Kim Swift, Quantum Conundrum features engaging puzzle gameplay with the introduction of the Inter-Dimensional Shift Device (IDS), an invention that gives players the ability to shift to and from various dimensions, manipulating the world around them in order to solve puzzles of ever-increasing difficulty.
Sleeping Dogs (PS3, 360, PC) – due August 14 – Sleeping Dogs catapults players into the role of undercover cop Wei Shen, tasked with taking down one of the world's most fearsome criminal organizations from the inside — the Hong Kong Triads. As players explore the bustling and crowded Hong Kong island, through its neon-lit side streets and sprawling street markets, an incredible story unfolds of loyalty and betrayal where Wei begins to question his own motives as he is sucked in deeper than he could ever imagine.
Tomb Raider (PS3, 360, PC) – due Q1 2013 – Armed with only the raw instincts and physical ability to push beyond the limits of human endurance, Tomb Raider delivers an intense and gritty story into the origins of Lara Croft and her ascent from a frightened young woman to a hardened survivor.
Heroes of Ruin (3DS) – due July 17 – Heroes of Ruin challenges players to carve their own adventure, either venturing alone or joining forces with other heroes through seamless drop-in/drop-out co-op multiplayer. Players will enter an ever-changing world where danger waits around every corner. Heroes can explore and fight through wild, varied and dynamic environments, discovering new layouts and routes each time they play.
Kingdom Hearts 3D: Dream Drop Distance (3DS) – due July 31 – Celebrating the franchise's 10th anniversary, Kingdom Hearts 3D: Dream Drop Distance features a spectacular story that promises to be a fun backdrop to the colorful cast of Disney characters making their 3D debut on a handheld title. In addition to brand new worlds, Kingdom Hearts 3D: Dream Drop Distance will also feature never before seen gameplay elements.
Theatrhythm Final Fantasy (3DS) – due July 3 – The first Final Fantasy rhythm game, Theatrhythm Final Fantasy features more than 70 musical scores spanning entire 25 years of the franchise's history. Theatrhythm Final Fantasy features music from key events, lush field themes and decisive battle arrangements.
iOS and Android
Dariusburst Second Prologue (iOS) – available now – The shooting game hit has arrived! This stunning 3D iPhone game adapts elements from both the critically-acclaimed PlayStation Portable and arcade editions of Dariusburst, adding silky smooth touch screen controls and a host of exclusive new features. Climb aboard your sleek Silverhawk fighter and defend your home planet Darius against monstrous fishlike invaders!
Demon's Score (iOS, Android) – due summer – Demons' Score is a breakbeat action game that seamlessly fuses music and battles. The Unreal Engine 3 is used to deliver thrilling touch-based gameplay through a mind-blowing fusion of stunning graphics and music created by hit songwriters.
Final Fantasy Dimensions (iOS, Android) – due summer – Drawing upon the roots of the series with such features as beautiful 2D pixel art, job-driven character growth, additional scenarios in which to inherit the jobs of your adventuring companions, and a classic story of light, darkness, and crystals, Final Fantasy Dimensions delivers the best of Final Fantasy, retro and fresh alike, directly to your smartphone.
Guardian Cross (iOS, Android) – due July for iOS, TBD for Android – A creature-based card game that features a fully unique battle system in which players take on the role of "tamers" who capture, raise, and control powerful beasts known as "Guardians." In addition to quests to unlock the secret of why the Guardians have woken after a millennium of slumber, other features include a coliseum system that allows players to challenge other tamers from around the world in head-to-head combat.
KooZac (iOS, Android) – due summer – KooZac, the award-winning number puzzler is coming to iOS and Android. Previously released online, the game has been played over 15 million times across 135 countries. KooZac offers three ways to play with the overall objective of positioning the falling blocks on top of each other to make a target number.
Motley Blocks (iOS, Android) – due summer – Motley Blocks is a fast-paced, 3D puzzle game. Drag your finger across the screen to connect blocks of the same color as they rotate in a cyclonic pattern. Release your touch to send the blocks to the center of the cyclone and reveal a fun image. Use power-ups to help complete harder levels. In addition to solving puzzles, make your own in the level creator and share them with friends!
Qwirkle (iOS, Android) – due summer – Qwirkle is a matching game requiring tactical maneuvers and well-planned strategy. Earn points by building rows and columns of tiles that share a common shape or color. Use power-ups and add an additional layer of strategy to the game! Play with multiple friends asynchronously in classic or arcade modes.
Raystorm (iOS) – due June – The classic 1996 arcade shooter is back! After a brutal war with rebellious colony planets, Earth is on the brink of destruction. It's up to you to take control of the experimental R-GRAY fighter and bring the fight to the enemy! To succeed in your mission you'll need lightning-fast reflexes, advanced weaponry, and no small amount of luck!
SolaRola (iOS, Android) – due summer – SolaRola stars Wiz and Waz, the game's blob-like gung-ho duo, tasked with bouncing across a number of challenging planets with the ultimate aim of saving the galaxy. Using whatever comes to hand, the daring pairing must thwart the plans of their nemesis, Ping the Unmerciless who has kidnapped the six guardians of SolaRola's universe. With each planet inhabited by all manner of enemies and hazards, the player must navigate Wiz and Waz across a number of ill-positioned obstacles including rocks, slime, bombs and trampolines.