The Last of Us is third-person, not a zombie game
New information from online previews.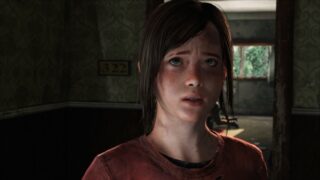 The Last of Us will debut for PlayStation 3 in late 2012 or early 2013, according to a USA Today preview.
Joel, the game's lead character, finds and teams up with 14-year old Ellie at the start of the game, who doesn't know of a world before the plague. Joel is a "a vicious survivor. When he meets this girl, she is his one chance at redemption," according to creative director Neil Druckmann.
Similar to Uncharted (and every other game Naughty Dog has made), The Last of Us plays in the third-person perspective, though USA today says it offers a "more realistic, cinematic look." According to Naughty Dog co-president Christophe Balestra, that's exactly the route they're going.
"We're trying to move the medium of video games into an area elevated in the same manner of respect of film," Balestra said. "We want to redefine what our medium is even called. 'Video game' is not an accurate name anymore. It is not necessarily a game with rules and a winner and a loser. It's an experience."
Quizzed by iWaggle3D on PlayStation Move support, Balestra said, "So far we haven't been thinking about that. We've been focusing just on creating the characters and the universe."
A (gigantic) Eurogamer preview reveals the game has been in development by a team of 80 for the past two years – a team no one knew existed. Its artistic inspirations include No Country For Old Men, The Road, The Walking Dead (comic), and City of Thieves (novel).
The Last of Us is not a zombie game, according to Druckmann. "If the game was about the monsters, we would have not showed them. The story's not about them, so [we thought] let's get it out of the way." But it's not a horror game, either. So what type of game is it? "This is going to sound corny and it might not appeal to gamers, but I would say it's a love story," said Druckmann. "It's not a romantic love story, it's a love story about a father-daughter-like relationship."
The game, which seemingly involves both killing and scavenging, is set across various U.S. cities. Naughty Dog wouldn't say which character(s) you control, or if co-op is an option. The "no network play" note on the official PlayStation website came out of nowhere, they insisted. "We don't know where that came from," says Druckmann. "That's TBD," added game director Bruce Straley.
Story is a huge focus for Naughty Dog. Druckmann said he wants to "change the fucking industry" with it, "because we feel like storytelling is so poor right now."
"It's story-driven, [but] the whole triangle is story, gameplay and art," added Straley. "As a gamer it's all about strategy and giving the player enough tools in their toolkit so that they can come upon something and choose and have the consequences play out within their choices."
Though the game's projected release is before 2013, Naughty Dog is taking the 'it'll be done when it's done' route. Don't expect them to announce a release date a year in advance like they did with Uncharted 3.
"We will never do that again, not a year out," said Balestra. Wells added, "The minute we saw [the date] on screen we were like, oh god, I really regret that."
For a full, in-depth preview, check out Eurogamer.