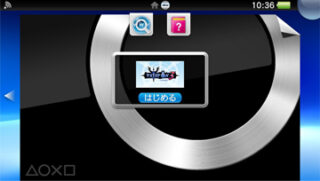 PlayStation Vita owners will be able to play their PSP games through a special download application called UMD Passport, Sony announced today.
Available beginning December 6, the program will allow consumers to register their UMD disc to their PlayStation Network account, and then download the UMD title from PlayStation Network at a discount price.
It will support about 200 titles from 40 companies, the starting list of which can be accessed here. Square Enix, Capcom, Konami, Sega, and Falcom are all on board, despite their absence on the list at the moment. Currently, the list includes major titles like Persona 3 Portable and Gran Turismo.
And don't think about cheating the system to get you and your friends discounts across the board. A UMD can only be registered once.
When you launch a PSP game, you'll be greeted with its very own LiveArea, and have the option to configure bi-linear filtering, change analog settings, etc. For games that use the PSP camera, you'll be able to toggle between the Vita's front and back cameras.
For save games, you'll need to make use of the PlayStation Vita Content Management program, which will be available on both PC and PlayStation 3. The program will also allow you to copy music, video, and images, back up your PlayStation Vita files, and move Vita content you don't want on the system anymore to your PlayStation 3 or PC for storage.
Read More (in Japanese):